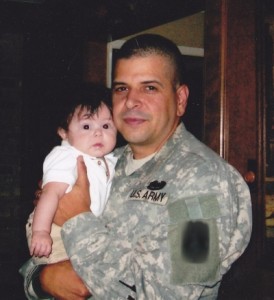 Chris Hernandez is a former Marine and veteran Police Officer, currently serving in the Texas Army National Guard. He is a combat veteran of Iraq and Afghanistan, and served 18 months as a UN police officer in Kosovo. Chris lives with his wife and children in southeast Texas. Proof of Our Resolve is his first novel and is part one in a series of several books.

Author's Blog: ChrisHernandezAuthor.com
Twitter: @ChrisHe36749645
Reviews
Very realistic, very down to earth. Makes the reader feel like they've been air dropped into the middle of the situation.
— Brian Slaughter, Desert Storm Veteran
This is a compelling page turner of a story. A truly excellent read. The author grabs your interest at the very beginning and never lets go. The more I read, the more I came to care about the characters and about how it ended. So much so that about half-way through I skipped to the end to see how it came out. And then I went back and read from the middle on. And then I went back and read the whole thing again! The dialogue is crisp and very well-done – and yes, there were parts where I laughed and parts where I cried.
— Marilyn Pfaff
Kapisa province is the smallest in Afghanistan, but over centuries it has seen more than its share of battles. In this story, Chris Hernandez brings one of those battles to life. This gripping tale of an IED strike, an ensuing battle, and the emotional toll it took on a platoon of U.S. soldiers is fast-paced and full of imagery that captivates its reader. Add this book to your reading list.
— Karla Marshall