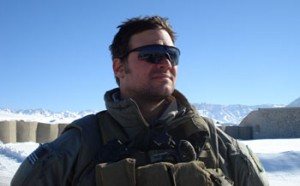 Robert Patrick Lewis grew up in Kingwood, Texas.  After graduation from high school he attended Texas State University to pursue a Marketing degree.  Shortly after September 11th, 2001, he enlisted in the Army's Delayed Entry program, which allowed him to finish out his college degree, and a few weeks after graduation he left for Infantry Basic Training at Ft. Benning, GA.  Initially intended to be an Army Ranger, he was accepted into the 18 X-ray program, which sent him directly to Special Forces Assessment and Selection after attending Airborne school.
Selected as an 18 Delta, Special Forces Medic (one of the most coveted jobs in all of Special Operations), he spent two additional years at Ft. Bragg training to be a Green Beret.  After graduation from the Special Forces Qualification Course (SFQC) he was assigned to 1st Battalion, 10th Special Forces Group (Airborne) in Stuttgart, Germany.
While assigned to B/1/10 he was an operator on Operational Detachment-Alpha (ODA) 022 and was deployed to Iraq, Africa, and Afghanistan, amongst numerous other training deployments around the US and Europe.
After completing his two-year tour in Germany he was assigned to 3rd Battalion, 10th Special Forces Group (Airborne) located in Colorado.  He was immediately deployed to Iraq after his arrival, and left active duty shortly after his return from Iraq in 2009.  At the end of his time in the Army his medals included the Purple Heart, Bronze Star, NATO
non-article 5 medal, two Army Commendation Medals, Special Forces Tab, Combat Infantry Badge, Airborne wings, Iraq Campaign Medal with star, Afghanistan Campaign Medal, and many ribbons for his exploits with the Army.
He now lives in Southern California, is attending Colorado State University for his Master of Business Administration (MBA) degree, works as an Investment Advisor Representative and contributor to Iron Mike Men's Magazine, The Santa Clarita Gazette, is the national correspondent for KHTS, and hosts "The Green Beret MBA" and "Center Mass with Rob and Silent J" programs on Vets on Media as well as "The Far From Centered Podcast" on iTunes. His published books include his military memoir "Love Me When I'm Gone: the true story of life, love and loss for a Green Beret in post-9/11 war" and "The Pact," the first addition of a 3-book fictional military series.

Twitter: @RobertPLewis
Reviews
This is the second time that I've heard a veteran interviewed on Adam Carolla's podcast to plug his book. Both times the authors turned out to be some of the best guests I've ever heard. The first was Sean Parnell, author of Outlaw Platoon. And just like Sean Parnell, Rob Lewis turned out to be one of the nicest, most sincere, and most interesting guests to listen to. And again, just like with the previous guest's book, Love Me When I'm Gone turned out to be an amazing story.Rob Lewis tells his story beginning as a high school student who is kind of a screw-up. He meets a nice girl in his Spanish class and eventually falls in love with her. His love for her turns out to be an ongoing thread through the whole story.What makes his story uniquely interesting to me compared to other accounts from Afghanistan is his medical experience. As a Special Forces "18D", he is the medical specialist for his team. With his expertise, he is also often called on to deliver medical clinics to the locals where he was deployed. These clinics were a sign of good faith to the locals, intended to win over their goodwill.
I don't want to tell too much of his story; you should read it for yourself.
Lewis's story is intense and hard to read at times. I admit that my eyes leaked more than once. I don't know if he had professional help to write his story or if he wrote this himself. All I know is that the writing was really well done. He did a great job moving the story along and teasing a couple of different topics. I definitely couldn't put it down.
I am constantly amazed to know that men like Lewis have committed to put their lives at risk to protect our country against its enemies. Reading stories like his is as close as I'll ever come to understanding what's really happening in these wars. But as long as there are men and women like him putting their lives on the line, the least the rest of us can do is read their stories and give them our unending support.
Thank you, Rob Lewis for your service and your sacrifice. Thank you for taking a bullet to protect my country. I hope we deserve it.
— Amazon Review by David Edmiston
A great tribute to those who put their lives on the line every day ! We appreciate the dedication to detail of what happens at the other end before our soldiers are returned to us. It is something that we didn't know until we read this book. Thank You from us for such a great tribute.
— Amazon Review by JWalden902
I'm blown away by his book. It's smart, real, and written very, very well. Having spent time overseas myself with the author in the service I have tried and failed to find words to explain how it felt at times to be away from home and loved ones while doing my job. Rob put into words what a lot of us felt and feel still about our experiences, all different from each other but still similar enough to choke us up. Get his book and read it.
— Amazon Review by cpmd