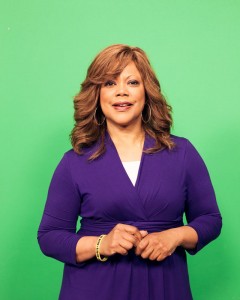 Pam Saulsby is an Emmy-award winning television news journalist.
She has worked as a news reporter and anchor since 1981. Pam has worked in specialized areas of news reporting. Those areas include health, crime, children, and currently military matters.
She is a graduate from the University of Florida in Gainesville where Pam earned a B.S. Degree in Broadcasting and Communications. She has had involvement in the following professional organizations: The National Assoc. of Black Journalists, American Women in Radio and Television, North Carolina Society of Journalists, Triangle Association of Black Journalists.
Pam has been recognized nationally and locally for excellence in Journalism. Among her awards: 3 regional Emmy Awards, and 1 National Emmy award for a series of reports on the beginning of the Crack Cocaine epidemic. She has earned several Emmy nominations. This year she received a Presidential Award for Volunteerism and the use of her personal video camera to produce news stories about military members and their families. Pam was named one of the top Women in Business in The Triangle Area. She was recognized by the state of North Carolina and honored with a Woman of the Year Award in Business.
Pam is the author of a Children's Book called "Ashley's High Five for Daddy." It will be published soon. It is the story of a little girl who is having trouble understanding why her father has returned from deployment a little changed than she remembers.
Pam has recorded two albums. Her most recent "Holding It Down" is a collection of tunes that salute the troops. She is donating a portion of the sales of the CD to Fort Bragg Fisher House. It is a home away from home for families whose loved ones are being treated at Womack Army Medical Center at Fort Bragg.
She lives in Raleigh, North Carolina.

Twitter: @PamSaulsby