Our Mission
Tactical 16 was built using Combat Veteran focus added with Civilian business expertise and experience with the goal of providing a hybrid answer to complex publishing issues that are plaguing a stagnate industry.
Tactical 16 has built an extensive network of media and publishing professionals all focused on helping the next generation of talented Authors. The industry is rapidly changing, and Tactical 16 is committed to making sure Tactical 16 Authors are ahead of the game and working with the best-published product possible. Any Genre, Any idea. We want to hear it!
Our team consists of military members from around the world and talented civilians from all walks of life. If you have an idea for a story, we want to help you find the success you deserve.
We are not a traditional publisher, and we take better care of our teammates than self-publishers.
We are evolving every day.
If you are looking to become a published author, let's talk and see if our hybrid publishing program will work for you. You should never go broke publishing your story and your profits should be in your favor. We recognized this and created a program that gives the Author creative control over their work and puts more money into the Authors pocket!
What can Tactical 16 do for you?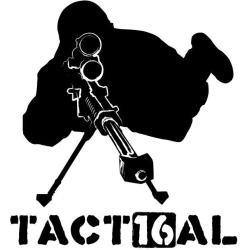 Why Tactical 16 for the company name?
There are two parts to the title, Tactical and "16". Each has a different meaning. Tactical refers to the Armed Forces, Police, Fire, and Rescue communities or any group who loves, believes in, and supports Our Country. The "16" is the number of acres of the World Trade Center complex that was destroyed on September 11, 2001. That day will be forever engrained in the memories of many generations of Americans. But that day is also a reminder of the resolve of this Country's People and the courage, dedication, honor, and integrity of our Armed Forces, Police, Fire, and Rescue communities. Without Americans willing to risk their lives to defend and protect Our Country, we would not have the opportunities we have before us today.
Our Tactical 16 Sniper is forever there, protecting our team from the vultures of the publishing, media and entertainment industries.